UPCOMING SALES AND RECENT ESTATE LIQUIDATION NEWS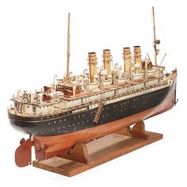 AUCTION CONSIGNMENT BRINGS WONDERFUL SURPRISE: We recently helped place a few items to auction from an estate that did not have enough volume in the home for an on-site sale. Other companies might not have taken the time to research these treasures to insure the family received top dollar for their heirlooms.

Rare Marklin Ship Model - Auction Price Recently Realized - $43,000!
---
UPCOMING SALES:
5/27-5/28/17 Memorial Day Weekend - No Sale
6/3 - 6/4 Mount Airy, MD - 30 Acre Farm - Snowblower, Lawn Tractor, Jewelry, Furniture, Collectibles, Lawn & Garden, Rare Banjo, Tools, Kitchen Appliances/Cookware, Books, Household, even Sheep Enclosures! Tons to offer!
(Photos & Details Soon!)
6/10 - 6/11 Chevy Chase/DC - Wonderful Estate - Fine & Costume Jewelry, Coins, Fine Furnishings, Antiques, Collectibles.
(Photos & Details Soon!)
6/17 - 6/18 - Burtonsville, MD - Large home of 5 acres in Mont Co. - Tons of easy parking on the property. Like New Snowblower, Generator, Fine Furnishings, Riding Mowers, Tools, Large Basement Full For Picking. Even a trailer off an 18 Wheeler out back!
(Photos & Details Soon)
6/24-6/25/17 Westminster, MD - Antique Furniture, Proof Coins, Antique Lionel Train Set, Jewelry, TONS of Power & Hand Tools, Lumber, Lawn & Garden - 3 ACRES OF PARKING!
(Click Here For Photos & Details)
Need A Sale? Call Today - Currently Booking May/June Sales!
We are Maryland's busiest, full-service estate company!
-For ON-SITE ESTATE SALE INFO:
[ CLICK HERE FOR INFO] We sort, stage, advertise, appraise, sell, & clean
100% transparency - We provide a sales log including every purchase in your estate accounted for. Payment with 24 hours of sale conclusion.
-All Staff 15+ Years Estate Experience - Call for a no obligation estate consultation. We answer the phones 7 days a week!
Everything you need, from start to finish!
Call us today!
410-336-0277