Hiring A Liquidator For An Onsite Estate Sale Couldn't Be Easier !

When hiring us, people often ask what they need to do before we arrive. The simple answer is, you need to do absolutely nothing, that is why you are paying a professional company!

1. Do not throw out ANYTHING! Believe it or not, half full bottles of cleaning supplies, old magazines, newspaper, greeting cards etc. sell faster than the furniture. Even an old broken plate or picture frame can be re-purposed by an arts and crafts buyer with an imagination. The only thing you can do if you wish, is to clean out the refrigerator and just one bathroom for our staff - we will handle the rest!

2. NEVER take any jewelry, silver, or gold to a cash for gold or local jeweler to pre-sell. These items are the best sellers at our sales and we have a certified gemologist on our staff to do a valuation on each piece. In some cases, the costume jewelry is worth more than the fine jewelry - therefore do not trust anyone else doing a buyout, we get top dollar for jewelry at our sales and it also helps attract a crowd. If after we appraise each piece, you decide to keep a few items, that is fine, you at least now know the true value.

3. To do a good job for you at the sale, we need access to the property weeks before the actual event. We pride ourselves on our extensive advertising campaign and we cannot stage, price, and photograph the inventory for marketing until we have first set-up and researched all the contents of the home. We take jobs on a first come, first serve basis and do not hold sale dates until we have a signed contract. In other words, it's never too soon to call us to book a sale.

4. We will gladly come visit the home to give you an estimate on what we feel your sale will generate at absolutely no charge, we dedicate only a few days a week for appointments so, again, call ASAP. The tab at the top of this web page titled "hiring a company" also answers many important questions regarding your sale.

5. If you need a fast, brief recommendation and can't wait to book an appointment-you can also send or text us just a few photos of each room (especially the basement, attic, and garage believe it or not) and we can often times start you in the right direction over the phone that day.

We look forward to hearing from you, call today to get started! 410-336-0277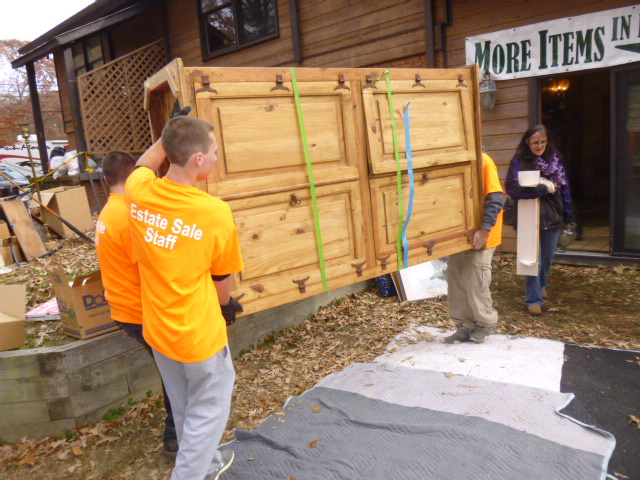 Help on-site for large purchases.

Cashier records all sales for your records.

All sales always well marketed on our website, Facebook page, and several websites with 1000s of estate sale shopper subscribers.